Posts Tagged 'growth mindset'
A key to transforming practice – Spiral vs Linear Learning Part II

A key to transforming practice – Spiral vs Li…

Posted 3 weeks ago

In A key to transforming practice – spiral vs linear learning Part I I proposed that the way teachers think about learning influences the way they teach. By observing the…

A key to transforming practice – Spiral vs Linear Learning Part I

A key to transforming practice – Spiral vs Linear Learning P…

Posted 3 months ago

A class begins, something is taught, hopefully something is learnt, the bell rings and then the next class begins. A unit of learning is begun, there are a range of…

Moving from Teacher Centred to Learner Driven Learning

Moving from Teacher Centred to Learner Driven…

Posted 4 months ago

I have been having a lot of interesting presentations at schools lately where I have been brought in to work with the teachers on formative assessment or differentiation or backward…

Assessment and Processes to Develop Active Learning: Part II

Assessment and Processes to Develop Active Learning: Part II

Posted 7 months ago

In Part I I argued that we can't actually measure learning, the best we can do is infer learning from behaviour demonstrated over time. I pointed out that most of…

Assessment and Processes to Develop Active Learning: Part I

Assessment and Processes to Develop Active Learning: Part I

Posted 7 months ago

How do we know that a learner has learnt something?

Is it from one off tests? Is it from their performance in rich learning tasks? Is it from reflection at the…

Building Trust and Developing Teacher Leadership

Building Trust and Developing Teacher Leadership

Posted 8 months ago

"When a gifted team dedicates itself to unselfish trust and combines instinct with boldness and effort, it is ready to climb."
Patanjali, Ancient Yoga Master
 When I first began as an educational…

Bringing Parents into the Learning Partnership

Bringing Parents into the Learning Partnershi…

Posted 10 months ago

A student's performance is mostly impacted by three communities

The School Learning Environment
The Student's Peer Community and their own beliefs about learning
The Parental / Family Community

Schools tend to spend most of…

Going for Mastery – The Journey of Learning

Going for Mastery – The Journey of Learning

Posted 11 months ago

One of the sports I reintroduced myself to when I first began university was track and field. I was a reasonable athlete as a junior, nothing special, but I wanted…

Delivering Long Term Results

Delivering Long Term Results

Posted 11 months ago

Welcome to all of our new and old subscribers! As most of you probably realise by now - after all of our informative and resourceful newsletters - the team at Intuyu…

Start the Year with Great Habits!

Start the Year with Great Habits!

Posted 11 months ago

Welcome back to the start of the school year and we are hoping you are feeling refreshed and fired up ready to go!

A little over two years ago I sat…
Previous
Next
A class begins, something is taught, hopefully something is learnt, the bell rings and then the next class begins. A unit of learning is begun, there are a range of activities occuring across days – weeks – months, hopefully something is learnt, then the unit ends and the next unit begins. A school year begins, a wide range of activities occur, assignments – possibly tests – are done, culminating projects are run with varying success, hopefully something is learnt, the year ends.
When one thinks about the flow of most of the learning that occurs within schools there is a particular pattern that arises – there is a beginning, a middle and an end. Sometimes the beginning, middle and end occur in one session. Sometimes it stretches across a few weeks and sometimes across the whole year. However, the habitual pattern is that there is a beginning, middle and end. So does it surprise you that over the years of schooling a learner could naturally develop the perception that learning is linear?
I had this insight recently during a conversation with a group of teachers at a primary school. The predominant unconcious context, and thus the subsequent habitual practices, within the school indicate that learning is perceived as linear by the students AND teachers. I then started exploring if that was the case in other schools, both primary and secondary, and found the same pattern. When I brought up my thinking with the teachers they all agreed. The way they often operate as educators could certainly develop a perception in their learners that learning is linear – start topic, do activities, end topic, next topic.
Learning, by its nature, is non-linear. The gaining of knowledge, whether by the individual or by humanity as a whole, is non-linear. Vygotsky coined the term "zone of proximal development" as a way of indicating that an individual learnt in a non-linear way. Piece by piece we gain knowledge and build a mental model through which we perceive the world. We begin with an incomplete model, given by our personal observations, the opinions and beliefs we grew up with. It is filled with misconceptions and misunderstandings. As we learn we slowly come to a more organised and consistent perception and interpretation of our world and how it works. The learning is non-linear but the explanations and ordering stem from an organised viewpoint . What often happens in schools though is that we "teach" in a linear fashion without honouring the non-linear nature of learning and thus engender a linear way of thinking about learning.
Context is Critical
"So what!" you may say – isn't that the way schools have to operate?
Well, no.
As the saying goes, our context will eat our strategies every day of the week.This underlying context within the way that we teach will undermine any and all good evidence based initiatives because it stems from and leads to a particular mindset. How we as educators think abut learning influences our habits, our practices, and the way we create learning for others.
Let's look at some of the common issues and complaints in schools that we could infer stem from this context:
All of these definitely have a range of underlying causes to why they occur but one of the common features is the way that teachers think about learning and thus operate as educators.
If we take the case that teachers have a big say in how learning is perceived by learners, then by shifting the context of the teachers implies we can shift the way learners perceive learning. Look around you at the dominant habits and practices of the teachers within the school.
What do they tell you about the context they hold about learning?
Do their habitual practices show that they are linking learning across lessons, classes, subjects, days, weeks, years?
Do they have anchor contexts and visible displays (which are constantly referred to) where students consistently and coherent develop the perception that they are exploring and building upon their understanding of the world?
If you think not then then the teacher context needs to shift to enable good pedagogical practices to occur.
If we begin by focusing on developing teachers to think from the context that learning is a spiral of increasing understanding and richness then I assert that these issues will start to shift. From this focus context teachers can begin to build habitual practices that are consistent with this context.
In Part II we will discuss what I mean by Spiral Learning and also give some simple HOWs teachers could use to go about shifting their context so as to develop a spiral learning context with the students.
Recently I wrote a  reply to a school who was asking me about Growth mindsets as a school philosophy and also how to go about framing the need for school cultural change. While I was writing it I realised how critical what I was writing was for many schools. As such I have included it for all of you. I would love any thoughts you have.
Do you know of a 'template' or model for a curriculum framework?
When you say "curriculum framework" it could mean many things… so I have found and edited a document (Useful Links for Planning the Transition to the Australian Curriculum) that could inform you for your question. It is partly put together by the Victorian Education Department so there is a Victorian Essential Learnings focus but the thinking and processes are equally applicable to what I believe you are up to.
Do you know of any schools who are using the "Growth Mindset" as their 'philosophy' of teaching and learning in some way? or pursuing it in a systematic way?
Developing a Growth Mindset can be considered a fundamental way of operating that underlies all contemporary programs. When you explore schools and classes that are high performing they develop a growth mindset in their students and staff. Perhaps the most integrated systematic approach to doing this I have heard about is "The Leader in Me" approach by Stephen R. Covey. Check out http://www.theleaderinme.org/. The concept is about applying and developing the 7 habits of highly effective people in students as part of the way that the curriculum is delivered. When you look at the Covey program after reading the book you see that what they are doing is building a growth mindset within the students by developing them in the set of strategies and thinking that a Growth mindset individual would have.
It is also worth checking out Masada College in NSW who implement this program in their Leading Learning Program (http://www.masada.nsw.edu.au/home/leading-learning-educational-package/masada)
I have also found articles about 'Brainology', a program teaching the Growth Mindset available from the USA. However, the Australian articles seemed to be about one main school. Are you familiar with that program? Do you know of any schools using it? Is it necessary to 'buy into' a program like that?Or would that be a good way to go?
Brainology (http://www.brainology.us/) is obviously Carol Dweck's work implemented into a program. Whether one needs to do it depends on the school's vision. One of the challenges about the questions you ask is that until you are clear about what the school's vision for learning is then taking on any of these programs will just be another thing to do that "hopefully" will make a difference. Inside of knowing what the school is "building" then you can judge whether it fits with that vision or not. Could it be valuable? Probably. I haven't come across a school using it yet in my travels.
It is also worth checking out how Kathleen Kryza and her wonderful team has used the Growth Mindset idea in their work of Differentiation. They have just created a book called "Give it a Go" http://www.inspiringlearners.com/store/give-it-go-guide-developing-growth-mindsets-inspiring-classroom which is all about creating growth mindsets in a class.
I want to include our recommendation that a 'culture change' could be needed at our school with regard to 'teaching and learning' and would appreciate hearing your ideas on how this could be 'framed' or expressed in the report/proposal.
Ok. Let me have a go at this. One of the conversations I am now having with schools is leading an inquiry into "what is student centred learning?" This reveals an enormous amount the perception of the teachers and the culture in the school. At one session I led it was interesting to hear teachers expressing opinions giving students more choice, more control, etc, When you looked at all the statements together what you got was sense of the teacher maintaining control and giving something to the students so they 'felt like they had a say'.
The next inquiry question was "who is more important in learning in a classroom – the teacher or the student", and we can draw a see-saw with the teacher and student balanced on either end of it. Of course, teachers answers vary depending on their perception.
Here is the crux.
The teacher vs student thinking is industrial age paradigm. In a contemporary learning environment everyone in the classroom is both at different times … and it is critical to realise that you need to THINK this way to have that occur. At different times you learn from your students just as much as they learn from you. We need to reinvent what it means to be a "teacher" because at different times you can be a teacher, coach, facilitator, guider, supporter, coordinator, organiser, and so on … but at all times you are a learner. In fact I believe in a school it is more appropriate to think of our roles along a continuum
Beginning Learner ——————————-> Master Learner
In particular areas educators are masterful … such as specific domain areas or even in how one learns. In others we are not … but the students have a certain capacity and competency in those areas. Other people may have a greater mastery in those areas and so we learn from them or have them partner us to achieve our goal. Our job is to partner the students to develop mastery of learning in areas that they are currently weak in such that they are prepared for an ever-changing world. That involves mastering the skills, thinking, understanding and mindset that will adapt and thrive in the world.
Can you become masterful without the doing? No. This is why student-centred learning is important. Student Centred Learning is a profound shift in the way that teachers think about learning and teaching. It is a shift in context from Teacher as the Driver of Learning (this is what I have to cover, this is what I must make sure they know, this is what I have to teach), to Educator Setting the Destination and They Drive. In this new culture of learning and what it means to be a "teacher", the focus becomes about getting clear about what the learning destination (skills, understandings, concepts) and planning on how we can create an environment where the habits, practices, activities, learning experiences supports the student to drive where we believe they will develop what they need for their future.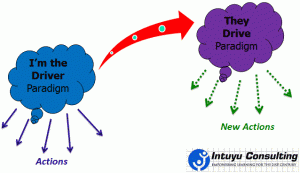 "Teachers" move from being the Drivers to the Driving Instructors. They don't have their hands on the steering wheel but sit beside the learners, masterful at understanding the rules of learning and the skills of learning, and provide what is required for the learner to arrive at the destination.
Unless the school has a clear overall destination in mind they will be making many side-trips to destinations that can leave the student confused, disoriented and ultimately not where they need to be. This is why it is critical to align school culture, practices and planning such that everyone is on the same page. At the moment many schools have not done the thinking and the curriculum planning to achieve this. A school needs to have a clear vision for who they are and what they are building, a clear scope and sequence of skills and understandings they are developing through the years, a clear map and plan of how they are going to do it, and also how they are going to measure progress towards the destination(s).
Assessment is not a destination … it is your measurement guide towards the destination. You could say it is your GPS!
I hope this helps!